At Anser Manufacturing, being the best doesn't mean being the biggest. We believe in putting in the time to produce quality logging trailers that meet our exacting standards…so that they exceed yours. Nothing leaves our shop until it's perfect, and we stand behind everything we build.
We achieve this by:
Maintaining rigorous quality control throughout the entire fabrication and assembly process
Providing our skilled team members with the best materials, components and equipment
Backing our products with customer-focused support
Based in Vernon, BC since 1985, Anser Manufacturing brings more than three decades of passion, skill and dedication in creating its industry-leading line of logging truck trailers. Designed and built in BC, our products meet the challenges faced by drivers in our woods and on our roads, every day.
As a logging trailer manufacturer and distributor, Anser caters to independent operators, dealerships and everyone in between. Our products have earned a reputation for delivering performance and durability to ensure drivers enjoy maximum uptime, efficiency and profits.
We understand the challenges truck drivers face in trying to meet the requirements of different mills. Our product line is designed to meet them all. We also back our trailers with responsive after-sales support. That starts with the Anser parts department, which has more inventory than many of our largest competitors.
And if you need maintenance or repairs, come by our easily accessible service center. We'll have you hauling again in no time.
Facilities
Headquartered at our easily accessible facilities on Fairweather Rd. in Vernon, BC, Anser Manufacturing produces, distributes and services its logging trailer products all in one convenient location.
Visit our premises and you'll find:
2 climate-controlled paint bays
2 fabricating shops
Machine shop
Electrical and plumbing shop
Offices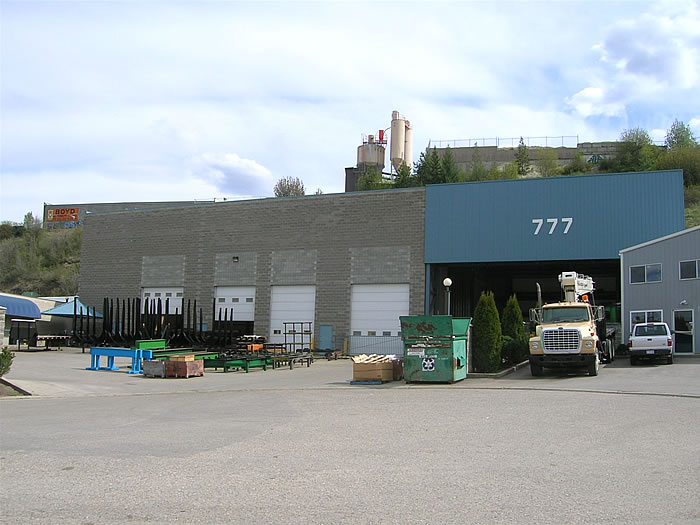 Our History
Anser Manufacturing is one of three family-run enterprises operated by the father-son duo of Hank and Matt Kamerbeek. The other two are Mid-Kam Manufacturing, a structural steel company, and H.J. Kamerbeek Construction, which specializes in both commercial and industrial building projects.
We feel that this level of diversity gives us an important competitive advantage: the ability to adapt. Not only does it ensure our workforce has the skillset to tackle any project, it also gives us tremendous flexibility when coordinating manpower for any particular project. As demands change, we have the ability to adapt our workforce accordingly.
Anser Manufacturing
Anser Manufacturing started in 1985 under the direction of Dan Chambers, formerly of DCT Chambers Trucking in Vernon. Over the next 16 years, he built the company up until Hank Kamerbeek acquired it in 2001.
Since that time, Hank and his son, Matt, who now heads the company, have continually improved the Anser product line using a combination of high-end parts and materials, as well as the use of 3D solid modeling software and Finite Element Analysis (FEA). Every Anser trailer design is engineered and stamped to ensure it meets our customers' needs, and our uncompromising standards for quality.
Mid-Kam Manufacturing
Since Hank Kamerbeek formed the company in 1988, Mid-Kam Manufacturing has been a leader in structural steel design, fabrication and assembly. From project management to design services, the company has carried out projects across Western Canada in a variety of industrial applications, including:
Mid-Kam Manufacturing
Founded by Hank Kamerbeek in 1976, H.J. Kamerbeek Construction specializes in both commercial and industrial building projects across BC and Alberta. Using highly skilled tradesmen, the company places a focus on precision, reliability and quality.
Logging Truck History
Logging trucks have come a long way since the first primitive versions were used in the forests of Western Canada in the 1930s and 40s. With tree harvesting sites becoming increasingly remote in modern times, trailer manufacturers like Anser have had to develop models capable of negotiating a range of physical barriers, including steep grades, single-track roads and poor ground conditions.
Anser Manufacturing has helped meet increasing demand for hauling short logs with its tri- and quad-axle short loggers. By increasing the number of axles, it increases the average payload of the tractor/trailer unit, which results in higher profits at the scales.
H&S Policy
Whether we're fabricating a logging trailer at the Anser Manufacturing shop, or we're erecting a structural steel building on a jobsite with Mid-Kam Manufacturing, we place a major emphasis on workplace safety. Each of our companies is fully insured, and we follow a strict set of protocols to foster a safe and healthy work environment.
We operate with a highly experienced team of employees who have the skills and training to properly operate the tools and equipment needed to complete jobs safely and efficiently. Because of this, we have established an exceptional safety record.